Sending flowers is such a thoughtful gesture. Receiving flower is simply amazing! I received my first Teleflora arrangement last Thanksgiving. The bouquet was gorgeous and served as the centerpiece on our dining room table. I was so impressed with the bouquet that whenever the the need arises, I call Teleflora. My son recently stayed at a friends house during spring break and when he asked what he should bring to his friends parents, I suggested a Teleflora arrangement and he did exactly that. He chose the Country Basket Blooms (shown below) and the recipients couldn't have been more delighted.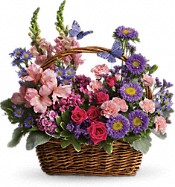 Whether it is a Birthday, anniversary,  get well or anytime really, receiving a Teleflora arrangement will brighten anyone's day. The hardest part about ordering from Teleflora is deciding which arrangement to choose.  Teleflora's Pink Bliss, Enchanted Garden, Lavender Grace and Butterfly Serenity to name a few (all shown at top) are all spectacular pieces.
Mother's Day is just around the corner and I can't think of anything I would rather receive than a Teleflora arrangement. I love the Everything Rosy Arrangement. This unique arrangement, presented in a vintage rose tin includes a bouquet of light pink and hot pink fresh baby roses and ivy. Also tucked into this gift are 3 Citrus Rose scented spa goodies including body wash, hand & body lotion and a deluxe candle. Why not give it a little something extra and add a mylar balloon, stuffed animal or chocolates.
This is a perfect gift to give someone special this Mother's Day and you have 3 sizes to chose from. All Teleflora arrangements are hand-arranged and delivered by a Teleflorist.
Visit http://www.teleflora.com and order your Teleflora arrangement today! Yes, they do have same day delivery and they have a live chat feature just in case you have any questions about your order.
Mother's Day will be here soon so order your special Teleflora arrangement today.
Categorized Under: Donna Raheb, Event, Fragrance, Gifts, Holiday, It's a Glam Thing, Shopping, Uncategorized
Related Tags: Choose a Mother's Day Gift, floral gifts, Flowers, Mother's Day Gifts